All this time I've been spinning and knitting on my own, not even realizing that I never even posted pics of my roving or the spindle I'm using. Here's the roving I'm using.


It's a 50/50 blend of merino/silk that I got from A Yarn Or a Tale. I can't remember what the color was called on the site but the card that was in the bag said Summer Border, so, I'm guessing that was probably it.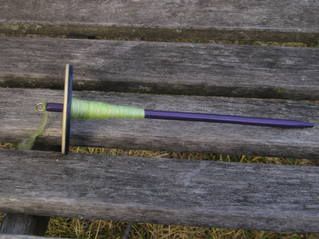 This is the spindle I'm using. It's one of the ones my mom makes and sells. Except mine has the purple shaft because I asked really nicely. It's my current favorite spindle. I also started my shawl. I'm halfway through the charts but, it's a circular shawl so the rows keep getting longer and longer as I go. Right now, it's taking me half an hour to knit a row. Pics to come either later today or sometime soon.