I have 60% of the shawl done ---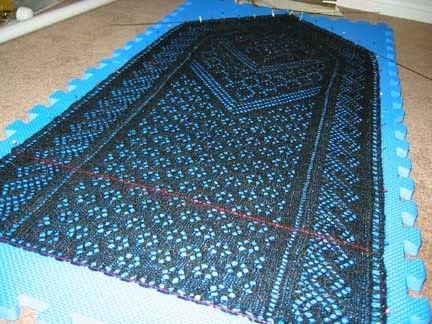 --- and a quick calculation tells me I have approximately 38.5% of my yarn left.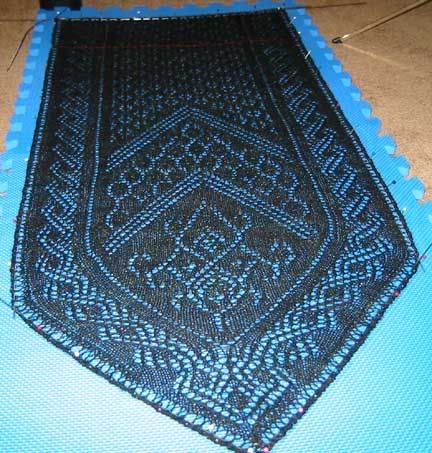 Normally when I'm afraid I'll run out of yarn I knit quickly and non-stop in hopes that I'll finish the project before I run out of yarn. I know, it makes no sense, but I'm not the only knitter that admits to this. Unfortunately the clues for the Mystery Stole 3 are being doled out piecemeal, one week at a time. I have no choice but to stop and wait for the next set of directions which won't be out until August 3rd.

On a good note, I can probably spin more if I have to. It's from commercially made top from Aurelia and the colourway is still available. On the other hand, I'd rather not as it comes in rather large bags and buying another will double my cost to make this stole.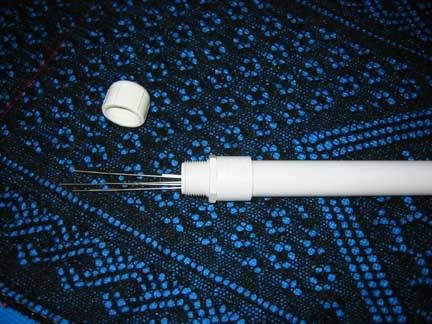 Monica was admiring my blocking wires earlier, so I thought I'd mention them here. Not wanting to send away for expensive blocking wires I took the advice of a knitter on a Yahoo-groups forum I belonged to and bought myself a handful of 3/16" x 36" tig welding rods. You just need to check the ends and use sandpaper or a grinder to smooth out anything that might snag. Blocking wires work really well for blocking items with straight edges or even for blocking shawls that have pointed edging (in that case you run the wire through each point). It reduces the number of pins you need and makes for perfectly straight lines.

My thoughtful husband made the holder for me out of PVC pipe and threaded end caps. He even painted them for me so that the ugly black lettering is no longer visible.

The other innovation visible here is the "blocking board" made of interlocking foam play mats. I have a case of 4 and would like another set so that I can block my largest shawls, but set up in a straight line these will work fine for blocking the finished stole.